Comet Hartley 2: NASA rendezvous a success, even better pics on the way
NASA's EPOXI craft radios 'I'm still alive' to mission control and sends back the first five close-up images of tiny, pockmarked Comet Hartley 2. Scientists eagerly await the photos in high-def.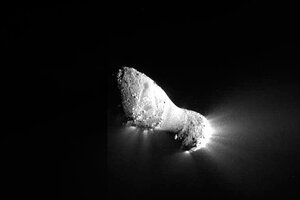 NASA/JPL-Caltech/UMD/Reuters
NASA's EPOXI mission to a tumbling, puny peanut of a comet returned stunning images of the object Thursday following a five-year, 2.5-billion-mile trip.
Mission control erupted into applause when they received the first "I'm still alive" information from the spacecraft after its closest approach to comet 103P/Hartley 2 at 10:01 Eastern Daylight Time this morning.
An hour later, when an initial set of five medium-resolution images taken at closest approach appeared, applause, high-fives, and hugs became the order of the day.
Each of the five images elicited choruses of "oh, my!" "amazing!" and "unbelievable!" as they revealed an odd-shaped, pockmarked object with jets of dust and gas erupting from the surface.
Mission controllers delivered the craft to its rendezvous with a pinpoint precision that a Tom Brady or Peyton Manning could only dream about. EPOXI passed within 434 miles of an object only about three-quarters of a mile across after traveling nearly 3 billion miles.
Ed Weiler, who runs the space science mission directorate at NASA headquarters in Washington dubbed the feat "just amazing."
The first images back are not EPOXI's best. Those will be downloaded from the spacecraft over the next day or so and will require extensive processing. But the medium-resolution images the science team has seen are enough to have whetted its collective appetite for the more-detailed images to come.
---