Poinsettias that glow in the dark? Genetic engineers at work
Researchers at BioGlow have successfully transferred the genes that allow marine bacteria to glow into tobacco plants. Next: glow in the dark roses or poinsettias?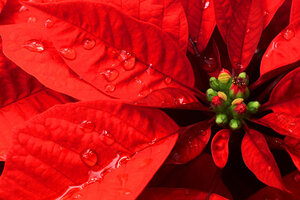 Robert Harbison / The Christian Science Monitor/File
Red roses with glowing petals, poinsettias lit up for Christmas and shrubbery that illuminates communities at night, rendering street lights unnecessary — that's the vision behind the company BioGlow, Inc.
This vision made an important step toward reality when one of its founders, Alexander Krichevsky, and other researchers succeeded in transplanting into tobacco plants the genes that allow marine bacteria to light up. [Image of glowing plants]
This is the first time plants have been made to glow on their own, according to Krichevsky, an assistant professor of genetic engineering at the State University of New York in Stony Brook.
"All previously made 'glowing plants,' genetically engineered or not, had to be either sprayed with chemicals or illuminated with external light sources to produce a temporary glowing effect," Krichevsky told LiveScience in an e-mail.
Even so, the light of the leaves is not yet quite what the founders of BioGlow want it to be.
---