New species of bacteria devouring Titanic wreck
The wreckage of the RMS Titanic may soon disappear forever, thanks to a newly discovered species of bacteria with a taste for iron oxide.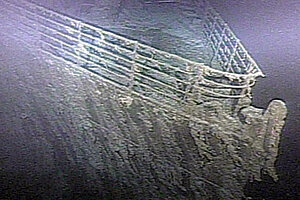 AFP/RMS Titanic Inc./Discovery Channel/Newscom/File
The wreckage of the RMS Titanic may soon be lost, thanks to a newly discovered rust-eating bacteria.
Researchers at Dalhousie University in Halifax, Nova Scotia, in Canada have been examining the bacteria eating away at the remains of the famous ship as it sits on the ocean floor.
Using DNA technology, Dalhousie scientists Henrietta Mann and Bhavleen Kaur and researchers from the University of Sevilla in Spain were able to identify a new bacterial species collected from rusticles (a formation of rust similar to an icicle or stalactite) from theTitanic wreck. The iron-oxide-munching bacterium has fittingly been named Halomonas titanicae.
The bacteria have critical implications for the preservation of the ship's wreckage.
"In 1995, I was predicting that Titanic had another 30 years," Mann said. "But I think it's deteriorating much faster than that now. Perhaps if we get another 15 to 20 years out of it, we're doing good ... eventually there will be nothing left but a rust stain."
The wreck is covered with rusticles; the knob-like mounds have formed from at least 27 strains of bacteria, including Halomonas titanicae.
Rusticles are porous and allow water to pass through; they are rather delicate and will eventually disintegrate into fine powder. "It's a natural process, recycling the iron and returning it to nature," Mann said.
---