Did giant storks once dine on hobbits?
Giant storks may have hunted a hobbit-like species of humans discovered in Indonesia, say scientists. The giant storks, now extinct, were about six feet tall and carnivorous.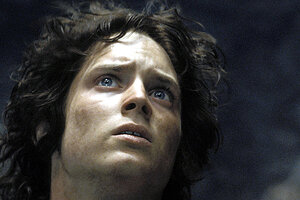 In the "Lord of the Rings" books, hobbits were rescued by giant eagles, but real-life hobbits might have been hunted by giant storks, scientists find.
The fossil remains of what may have been a hobbit-like species of human were discovered in 2003 at the Liang Bua cave on the Indonesian island of Flores. In that cave, scientists also unearthed a large number of bird fossils — including 20,000- to 50,000-year-old wing and leg bones from what appears to have been a stork nearly 6 feet tall (1.8 meters).
"From the size of its bones, we initially were expecting a giant raptor, which are commonly found on islands, not a stork," said Hanneke Meijer, a vertebrate paleontologist at the Smithsonian Institution in Washington.
The carnivorous giant (Leptoptilos robustus) was a hitherto unknown species of marabou stork, among the largest birds alive on the planet. [Image of giant stork]
---