Nine places on Earth that mimic Mars terrain
Scientists say that Mars went through three ages, and the first age may have been habitable for life as we know it. Each stage on Mars can be found at nine different locations around the planet Earth today.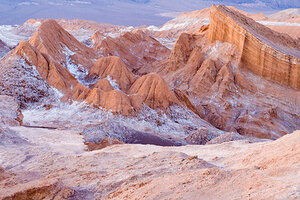 Stengert/CHROMORANGE/picture-alliance/Newscom
There is no place on Earth that is a perfect copycat of Mars as it is now, or as it was at any specific point in the past. But scientists suggest Earth has little versions of Mars as it might have been over decades.
These places could help scientists develop a timeline of the Red Planet's history.
By providing insights on how Mars has changed over time, these terrestrial mimics could help us better understand the results of past and current missions to Mars. They also could help researchers plan future expeditions to look for signs of life on Mars. In addition, investigating these extreme sites on Earth could shed light on the limits of life.
IN PICTURES: Spirit rover's view from Mars
Astrobiologist Alberto Fairen at the SETI Institute and NASA Ames Research Center and his colleagues identified three stages Mars went through.
In the first, cold, wet age, enough liquid water and energy was present to make Mars potentially habitable. In the second "Snowball Mars" age, conditions became extremely challenging, and the liquid water that could have made life possible became scarce.
In the current hyper-arid age, conditions on the surface have become largely uninhabitable, save perhaps some isolated niches.
---