Voyager 1 spacecraft entering 'heliopause,' leaving solar wind behind
Voyager 1 reaching edge of the solar system, a region where the sun's influence wanes and the speed of the solar wind's outflow is zero, scientists report. Latest zone for Voyager 1: heliopause.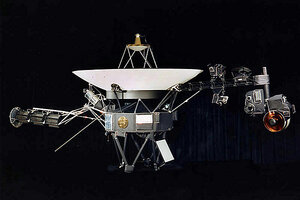 NASA/AFP/Getty Images/Newscom
Voyager 1 is about to kiss the solar system goodbye.
The plucky spacecraft – one of two Voyagers launched more than 30 years ago and now bound for interstellar space – appears to have reached a region within a broad boundary between the sun's influence and interstellar space where the speed of the solar wind's outflow reaches zero, scientists report.
The region is known as the heliopause, where the solar wind – a continuous flow of charged particles that streams from the sun in all directions at roughly 1 million miles per hour – is brought to a standstill as it meets interstellar winds head-on and gets deflected sideways.
Space photos of the day: Voyager
"The solar wind has turned the corner," said Ed Stone, the mission's project scientist, in a statement. The Voyager team presented its evidence at the fall meeting of the American Geophysical Union, currently under way in San Francisco.
---