Christmas 'star': Some theories on what the Magi were following
Scholars offer various explanations for the account of a Christmas 'star.' Their sources: computer reproductions of the night sky, accounts of ancient historians, and the Gospel of Matthew.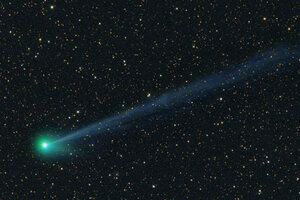 Newscom
From the early pages of the Gospel of Matthew to holiday-greeting cards and carol scores of today, three Magi leaving Jerusalem and following a star hovering over Bethlehem has become one of the icons of the Christmas season.
Some ascribe the appearance of the "star" to a miracle. But as far back as the early 1600s, when Johannes Kepler offered up a cosmic candidate, astronomers have suggested a series of astronomical explanations for the apparition, ranging from comets to planetary conjunctions.
In modern times, the hunt has been aided by computer programs that can reproduce the night sky as viewed from any spot on Earth for thousands of years either side of today's date.
Ah, but which year to visit, let alone which days?
Scholars and amateurs alike who have tackled the Star of Bethlehem challenge note that they have to make educated guesses based on records that ancient historians kept of officials. Among them, King Herod, on whom, according to the Gospel, the Magi made a courtesy call en route to Bethlehem and someone the trio carefully avoided after visiting a young Jesus and his parents.
---