Risk of fresh Haiti earthquake could be greater than previously thought
Scientists had thought the Haiti earthquake a year ago released stress on a well-known fault. It didn't. Instead, it revealed faults that scientists didn't know existed.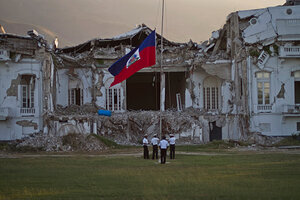 Ramon Espinosa/AP
A year after a devastating earthquake struck Haiti, killing an estimated 316,000 people and leaving a million homeless, scientists say the region around the capital faces additional earthquake risks that weren't apparent prior to Jan. 12, 2010.
In the tragedy's aftermath, researchers have conducted dozens of studies and have found that:
• The fault responsible was not the fault many initially identified as the culprit, but appears to have been a previously unknown hidden fault. That means centuries of accumulated strain remains on scientists' initial suspect, the Enriquillo-Plantain Garden fault.
• Strain has increased along this fault to the east and west of the region containing the fault that ruptured. The segments of the Enriquillo-Plantain Garden fault under greater strain include one that runs much closer to Port-au-Prince than the fault linked to last January's quake.
• Aftershocks have revealed what appears to be an undersea fault offshore from the epicenter of last year's quake – a fault whose historic rupture rate, along with estimates of the magnitude of the quakes it could generate, are unknown.
What emerges is a picture of faulting in the area far more complex than the picture researchers had prior to last January's temblor – a picture they are trying to fill in.
"We need to better characterize the hazard in the region so that we know all the different faults that are players" contributing to the region's seismic hazards, says Gavin Hayes, a geophysicist at the National Earthquake Center in Golden, Colo., a member of one of two groups that independently exonerated the Enriquillo-Plantain Garden fault.
---