New zodiac signs 2011: Can one guy just change the zodiac like that?
In a newspaper interview, astronomer Parke Kunkle pointed out a fact that astronomers have known for millennia, prompting an uproar among those who believe in astrology.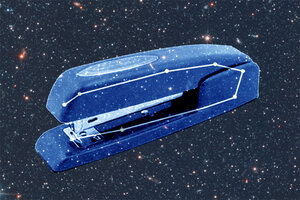 Illustration by Jake Turcotte
A newspaper interview with an astronomer has rocked the astrological world, leading some believers to worry that they've been referring to themselves as the "wrong" sign for all these years, and that instead of being, say, sensitive, dependable, and stubborn, they are now emotional, reliable, and obdurate.
In an interview with the Minneapolis-St. Paul Star Tribune, Parke Kunkle of the Minnesota Planetarium Society explained something astronomers have known for millenia: that the sun doesn't actually rise and fall through the constellations on the dates that your horoscope says that it does, and that it actually passes through a 13th constellation, Ophiuchus, the Snake Annoyer.
Can one man unilaterally change the zodiac? Just because Mr. Kunkle thinks you are now an Ophiuchus and not a Sagittarius, should we all just throw away our quivers and stomp our hooves in astrological outrage?
Actually, Kunkle didn't change anything at all. All he did was explain what is actually happening in the night sky – which is sort of what astronomers do.
Here we, too, will try to explain the science behind the celestial kerfuffle. Just don't get angry at us for slighting your favorite constellation.
Astronomically speaking, the zodiac is simply a way of plotting the movement of the sun against the stars behind it. When Babylonian sky-watchers thousands of years ago recorded the course of the sun in the sky for a year, they discovered that the sun moves through only a few of the dozens of charted constellations.
---