Ophiuchus: what you didn't know about the zodiac's 'new' constellation
Ophiuchus, the constellation that is trying to elbow its way in the astrological zodiac, is really a good guy. Did you know Ophiuchus holds the second-closest star to Earth?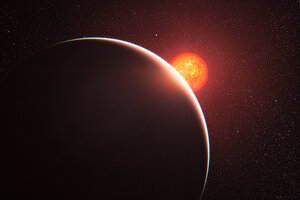 Newscom
OK, by now we know that Ophiuchus has crashed the zodiac party to the great consternation of many Sagittariuses (Sagitterii?).
Thanks to the inscrutable ways of the Internet, the world has apparently now discovered what astronomers have known for millennia: that the 12 signs of the zodiac are about as scientifically accurate as "Mission to Mars," and that, in fact, there is a 13th sign of the zodiac, Mr. Ophiuchus.
Granted, first impressions didn't go that well. But we're here to say that Ophiuchus isn't such a bad guy. In fact, according to one myth, he would have healed the entire world and made humankind immortal if Zeus hadn't gotten a wee big jealous and struck him down with a thunderbolt. (Been there, done that). But at least the big Z had the heart to put our man in the heavens and give him a nice snake to hold. Sort of like a Homeric pension plan.
Aside from all that ancient ancient claptrap, Ophiuchus also has a couple astronomical claims to fame, too. So don't dismiss him as a poor man's Sagittarius just yet.
First, he's big. Of the 88 constellations, Ophiuchus comes in at No. 11, in terms of amount of the sky occupied. Among the zodiac, only Virgo (No. 2) and Aquarius (No. 10) are bigger.
---