In a NASA first, NanoSail-D spacecraft to set sail on the sunlight
NASA's NanoSail-D is expected to test a type of propulsion that taps the momentum of photons in sunlight. Advocates say solar sails provide the best way toward interstellar travel.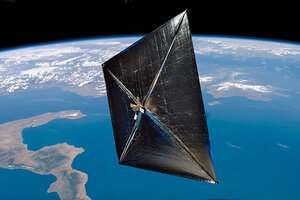 NASA
A new NASA craft is due to set sail, literally, Thursday night.
What's more, it hopes to be unfurling its sail in outer space.
What, you may ask, is NASA doing with a sail-powered vehicle?
The answer is that the bread-loaf-size satellite, built on a shoe-string budget, is designed to test a space propulsion technology that until the past few years has dwelt in the realm of science fiction.
The satellite, NanoSail-D, is expected to open its thin, square, reflective sail at 10 p.m. Eastern Standard Time, representing what would be the first successful on-orbit deployment of a solar sail in the history of the US space program.
IN PICTURES: Harnessing the sun's energy
It make lack the pizzazz of warp drive, the fictional propulsion system known to Star Trek fans. But many of its advocates argue that solar sails represent the best path to eventual interstellar travel. More immediately, the technology also holds the promise of reducing the amount of space junk orbiting Earth, boosters say.
The rooting section for Wednesday night's sail-deployment attempt may be small, but it's enthusiastic.
"The solar-sailing world is such a small world that we're all rooting for each other," says Bill Nye, executive director of the Planetary Society, a space-exploration advocacy group in Pasadena, Calif. The society has its own solar-sail demonstration program underway.
---