Apophis asteroid will probably almost certainly not smash into Earth, say scientists
Apophis asteroid: Russian scientists are warning that a rock the size of two football fields is poised to strike our planet in 2036. But NASA says the odds are just one in a quarter million.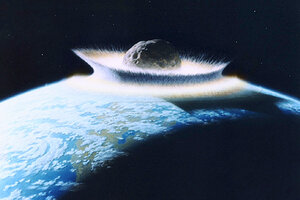 NASA/Newscom/File
In 2004, NASA scientists announced that there was a chance that Apophis, an asteroid larger than two football fields, could smash into Earth in 2029. A few additional observations and some number-crunching later, astronomers noted that the chance of the planet-killer hitting Earth in 2029 was nearly zilch.
Now, reports out of Russia say that scientists there estimate Apophis will collide with Earth on April 13, 2036. These reports conflict on the probability of such a doomsday event, but the question remains: How scared should we be?
"Technically, they're correct, there is a chance in 2036 [that Apophis will hit Earth]," said Donald Yeomans, head of NASA's Near-Earth Object Program Office. However, that chance is just 1-in-250,000, Yeomans said.
The Russian scientists are basing their predictions of a collision on the chance that the 900-foot-long (270 meters) Apophis will travel through what's called a gravitational keyhole as it passes by Earth in 2029. The gravitational keyhole they mention is a precise region in space, only slightly larger than the asteroid itself, in which the effect of Earth's gravity is such that it could tweak Apophis' path.
---