Scientists discover how to make squids go completely berserk
A single protein found on the surface of squid egg capsules will instantly transform a placid cephalopod into a eight-armed undersea terror, scientists discover.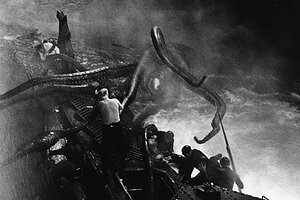 akg-images/Newscom
A newfound chemical drives male squid berserk, and the molecule appears similar to ones seen in humans, scientists now say.
Future research might investigate whether comparable human semen proteins have similar effects, investigators added.
Scientists investigated the longfin squid (Loligo pealeii), which live for nine to 12 months, usually mating and laying eggs in the spring, when the animals migrate from deep offshore waters to shallower waters along the Eastern Seaboard from North Carolina to Maine. Females mate several times with multiple males, who compete fiercely over females.
While in the field, scientists noticed that male squid were visually attracted to the tens of thousands of eggs laid on the seafloor. After just one touch of the eggs with their arms or heads, the researchers found that males immediately and dramatically went from swimming calmly to extreme aggression, including grappling, fin beating and forward lunging.
The culprit appears to be a single protein, a pheromone found on the outside surface of egg capsules. Coming in contact with this molecule will typically cause males to battle with other males, apparently in an attempt to get at females, even when females are not around.
This molecule appears to be the first aggression-triggering pheromone known in any marine animal. Scientists have discovered a number of pheromones that can spark aggression in land-based animals, and this research can similarly help understand critical signals in the oceans.
---