72 new images of comet Tempel 1 streaming in from Stardust-NExT flyby
Stardust-NExT sped to within 112 miles of the comet Monday at 11:39 p.m. EST. During the flyby, it snapped 72 new images of comet Tempel-1. Stand by for scientists' analysis of what they see.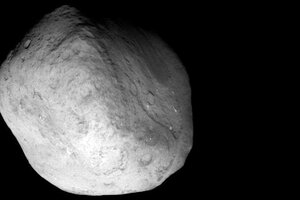 JPL-Caltech/Cornell/NASA/File
Images taken during the Stardust-NExT mission's flyby of comet Tempel 1 Monday night are trickling in to a happy but bleary-eyed science team eager to comb them for clues about the comet's history and changes the comet may have undergone since 2005, when another spacecraft took its measure.
After a trip of slightly more than 5.3 billion miles since its launch in February 1999, Stardust-NExT sped to within 112 miles of the comet, snapping 72 images during the flyby.
It's the first time researchers have gathered flyby data on the same comet twice.
Since 2005, Tempel 1 has orbited the sun once, giving researchers an unprecedented opportunity to see firsthand the effect a comet's close approach – in this case, no closer to the sun than the orbit of Mars – has on the comet's surface.
That information not only helps researchers understand how comets evolve with time. It also is vital to planning future comet sample-return missions that involve landers, says Joseph Veverka, a Cornell University researcher and the Stardust-NExT mission's lead scientist.
Comets are thought to carry pristine material left over from the formation of the solar system some 4.5 billion years ago. But with each swing past the sun, a comet's surface changes as it warms and releases dust, ice, and gas.
Data from Stardust-NExT will help scientists identify newly exposed material from older, more processed material as they try to pick landing spots on a comet's nucleus, Dr. Veverka explains.
The first encounter with Tempel 1 involved NASA's Deep Impact mission, which sent an impactor hurtling into Tempel 1's nucleus.
---