Comet Tempel 1: Stardust photos reveal crater that 'partly healed itself'
Photos from the Stardust-NExT rendezvous with comet Tempel 1 are streaming in. Some show a crater that was created by a different NASA mission but never sucessfully photographed.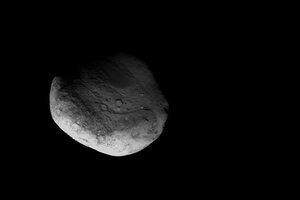 Newscom
For the first time in history, humanity has gotten an up-close-and-personal look at a comet on successive swings around the sun, and the scientists involved couldn't be more elated.
The Stardust-NExT spacecraft sped past comet 9P/Tempel 1 at 11:39 p.m. Eastern Standard Time on Valentine's Day, and Tuesday afternoon, the science team unveiled images representing some of the flyby's greatest hits.
Among 72 pictures taken during closest approach to the comet's potato-shaped nucleus, the craft captured changes in the cometscape since it last was imaged by NASA's Deep Impact craft six years ago. The crater that mission's 800-pound projectile carved into the nucleus – obscured by dust during the Deep Impact flyby – also swung into Stardust-NExT's view. And the craft captured images of intriguing new regions of the nucleus's surface.
"If you ask me: Was this mission 100 percent successful in terms of the science? I would have to say: No," said an exuberant Joseph Veverka, a Cornell University solar-system scientist and the mission's lead researcher. "It was 1000 percent successful."
---