Why Tuesday's New Zealand earthquake was deadlier than previous one
A magnitude 6.3 New Zealand earthquake destroyed local landmarks and killed 65, according to local reports. A nearby magnitude 7.0 earthquake in September 2010 killed none.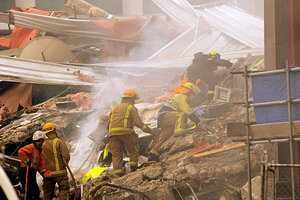 David Wethey/NZPA/AP
The New Zealand earthquake, which struck the country's second-largest metro area shortly before 1 p.m. local time Tuesday, highlights the hazards of living along the Pacific's "ring of fire."
Around its perimeter, vast plates of Earth's crust grind past or under one another, triggering some of the planet's most powerful earthquakes and most explosive volcanoes.
The magnitude 6.3 temblor that hit Christchurch Tuesday comes a scant five months after a magnitude 7.0 quake struck the region – the same magnitude as the earthquake that flattened much of Port-au-Prince, Haiti on Jan. 12, 2010. (Initial reports indicated September's earthquake had a magnitude of 7.4, but later estimates revised this downwards to 7.1 and then 7.0.)
Although the September quake released roughly 11 times the energy of Tuesday's quake and caused an estimated $4 billion (New Zealand; US$3 billion) in damage, no one was killed.
This time, at least 65 people have been killed, according to local reports.
---