Ice Age child discovered in Alaskan wilderness
Ice Age child: The remains of a prehistoric child have been found in the woods of Alaska. The story behind the Ice Age child may help modern day Native Americans understand something new about their ancestry.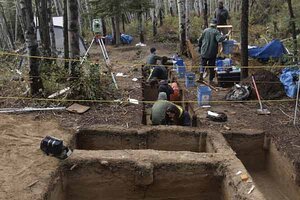 Ben A. Potter/Science/AP
The 11,500-year-old cremated remains of child discovered in Alaska are the oldest human remains found in the far north of North America and the second-youngest Ice Age child ever found on the continent, scientists say.
The burial site and house, which were unearthed during an excavation last summer that was led by University of Alaska Fairbanks archeologists, are also the oldest ever found in arctic or subarctic North America, scientists say.
The find, which is detailed in Friday's issue of the journal Science, were uncovered on what was supposed to be the last day of the excavation season near the Tanana River in central Alaska, said Ben Potter, the University of Alaska Fairbanks archeologist leading the project.
"Almost immediately, I could tell this was human," Potter said in an interview with Reuters. "The clincher was the presence of a molar, a human molar. That's about as obvious as it gets."
Signs of human habitation on Alaska date back to about 14,000 years ago, but discoveries of actual human remains are extremely rare, Potter said.
---