Walking cactus discovered in China
Walking cactus: Scientists have discovered what researchers are calling the missing link in China. The strange-looking walking cactus is thought to be the link between worm-like creatures and arthropods like spiders.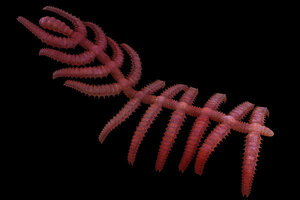 Jianni Liu/AFP/Newscom
Fossils of a 10-legged wormy creature that lived 520 million years ago may fill an important gap in the history of the evolution of insects, spiders and crustaceans.
The so-called walking cactus belongs to a group of extinct worm-like creatures called lobopodians that are thought to have given rise to arthropods. Spiders and other arthropods have segmented bodies and jointed limbs covered in a hardened shell.
Before the discovery of the walking cactus, Diania cactiformis, all lobopodian remains had soft bodies and soft limbs, said Jianni Liu, the lead researcher who is affiliated with Northwest University in China and Freie University in Germany.
"Walking cactus is very important because it is sort of a missing link from lobopodians to arthropods," Liu told LiveScience. "Scientists have always suspected that arthropods evolved from somewhere amongst lobopodians, but until now we didn't have a single fossil you could point at and say that is the first one with jointed legs. And this is what walking cactus shows." [Image of walking cactus fossil]
---
Follow Stories Like This
Get the Monitor stories you care about delivered to your inbox.