8.9 earthquake: The science behind Japan's quake
8.9 earthquake: A series of large foreshocks preceded Japan's earthquake, the fifth largest ever recorded.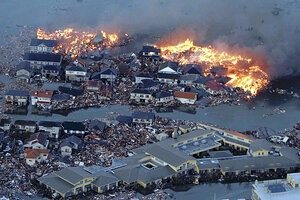 Yasushi Kanno/The Yomiuri Shimbun/AP
The fifth largest earthquake ever recorded hit Japan today (March 11), sending huge tsunami waves crashing onshore and reportedly killing at least 300 people.
The 8.9-magnitude earthquake struck at 2:46 p.m. local time (12:46 a.m. EST), near Honshu, Japan, an island that is home to about 100 million people. The temblor was the fifth in the past two days to hit the region, and major aftershocks can be expected for months, possibly even a year. Despite the massive foreshocks, there was no way to predict that Japan's biggest-recorded earthquake was looming, said Paul Caruso, a geophysicist with the U.S. Geological Survey (USGS) in Golden, Colo.
"We have big quakes there all the time," Caruso told OurAmazingPlanet. For all scientists knew at the time, the 6.3-magnitude quake that struck yesterday was the main shock, Caruso said. "Not every big earthquake has a foreshock but they all have aftershocks."
[Continued coverage of the Japan disaster from LiveScience.com]
Aftershock alert
The rule of thumb for seismologists is that an earthquake's largest aftershock will be one magnitude smaller than the main shock, Caruso said. That means a 7.9-magnitude earthquake could hit the region even a year from now. Yet aftershocks are already hitting northern Japan now — 35 larger than magnitude 5.0 and 14 larger than magnitude 6 — according to the UGSS.
Big aftershocks are not unusual. In February, a 6.6-magnitude aftershock ruptured near Maule, Chile — almost a year after what is now the sixth largest earthquake in recorded history, a magnitude 8.8, hit in the same region.
---