Roswell FBI memo: Baloney or hogwash?
Roswell FBI memo: A 1950 memo found in FBI archives is fueling reports that the US government secretly recovered crashed flying saucers. Are reports of a UFO cover-up a deranged and unfounded conspiracy theory or are they an irrational and baseless load of nonsense?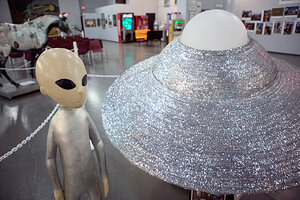 Newscom/File
Does a recently discovered 1950 memo found in FBI archives prove that the U.S. government recovered flying saucers and alien bodies in Roswell, New Mexico?
That's what many news outlets and websites are reporting. The British tabloid The Sun, for example, states that "The amazing UFO find at Roswell, New Mexico, was detailed by FBI agent Guy Hottel in a 1950 memo to the agency's director."
The memo, dated March 22, reports that "an investigator for the Air Force stated that three so-called flying saucers had been recovered in New Mexico... Each one was occupied by three bodies of human shape but only 3 feet tall, dressed in metallic cloth of a very fine texture. ... According to Mr. [XXX-blacked out] informant, the saucers were found in New Mexico..." It is apparently a genuine FBI memo, and there's no clear evidence of forgery.
It's being referred to as a smoking gun secret document that finally confirms what UFO believers have suspected for years. The story has been circulating around the Internet, garnering headlines like "Secret FBI memo 'proves' govt. covered up Roswell alien landing of 1947."
---