In race to replace space shuttles, NASA boosts four front-runners
NASA is turning to private companies to replace the space shuttles, and it will give four proposals from the likes of Boeing and SpaceX $269 million this year.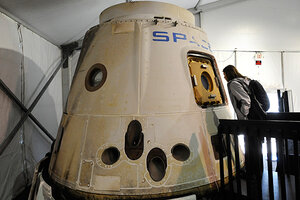 Mark Reis/The Colorado Springs Gazette/AP
Efforts to develop new spacecraft to ferry astronauts to and from the International Space Station have picked up fresh momentum thanks to agreements NASA has reached with four companies aiming to become the Checker Taxis to low-Earth orbit.
Space-agency officials announced late Monday that they would be spending $269.3 million this year to help four companies refine their concepts and hardware. The quartet, which was whittled down from a list of 22 proposals, ranges from long-time aerospace player Boeing to a new generation of aerospace entrepreneurs, including Space Exploration Technologies (SpaceX) and Blue Origins, founded by Amazon.com's Jeff Bezos.
The announcement comes at a critical time in the evolution of the US human-spaceflight program.
On April 29, the space shuttle Endeavour is scheduled to lift off from the Kennedy Space Center in Florida on its final mission. In late June or early July, Atlantis makes its farewell flight, bringing the 30-year shuttle program to a close. With no US replacement for the shuttle standing ready to pick up the baton, US astronauts will be traveling to and from the station in Russian spacecraft at least through 2016.
---