Space shuttle launch Friday will be last for Endeavour
Space shuttle launch: the US space shuttle Endeavour will launch for the last time on Friday, drawing an estimated 750,000 spectators from all over the country.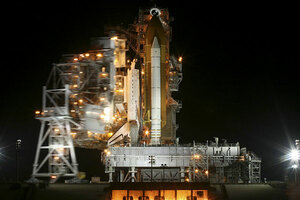 Molly Riley/Reuters
[Editor's note: The Space Shuttle Endeavour's scheduled launch has been delayed until Monday because of problems with the spacecraft's hydraulic systems.]
The 30-year US space shuttle program is drawing to a close. On Friday, at 3:47 p.m., Endeavour will embark on its final mission, and mark NASA's second to last shuttle mission before the program ends.
Endeavour is the only space shuttle to be christened by school children, named after a British vessel captained by James Cook that sailed the South Pacific in the 18th century. The youngest spaceship in the US fleet, the Endeavour was delivered in 1991.
The 14-day mission starts Friday with a launch from Kennedy Space Center. Forty-five thousand people are expected to attend a ticketed viewing at the center and more than 700,000 people have made their way from all corners of North America to various beaches and roads around the launch area.
On its last mission the Endeavour will carry an Alpha Magnetic Spectrometer, spare parts, two communication antennas, and a high-pressure gas tank to the International Space Station.
The Alpha Magnetic Spectrometer sifts through space in search of elusive dark matter and anti-matter by sensing for charged particles. Scientists have long said that there have to be equal amounts of matter and anti-matter in the universe, but finding anti-matter has been hard.
---