Doomsday date was miscalculated, says Harold Camping
Doomsday date re-recalculated by Harold Camping to take place in October. Most Christians dismiss the doomsday date predictions.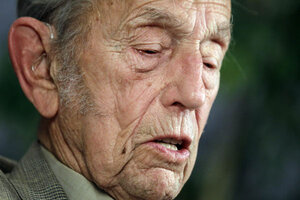 Marcio Jose Sanchez/AP
As crestfallen followers of a California preacher who foresaw the world's end strained to find meaning in their lives, Harold Camping revised his apocalyptic prophecy, saying he was off by five months and the Earth actually will be obliterated on Oct. 21.
Camping, who predicted that 200 million Christians would be taken to heaven Saturday before global cataclysm struck the planet, said Monday that he felt so terrible when his doomsday message did not come true that he left home and took refuge in a motel with his wife. His independent ministry, Family Radio International, spent millions — some of it from donations made by followers — on more than 5,000 billboards and 20 recreational vehicles plastered with the Judgment Day message.
Follower Jeff Hopkins also spent a good deal of his own retirement savings on gas money to power his car so people would see its ominous lighted sign showcasing Camping's May 21 warning. As the appointed day drew nearer, Hopkins started making the 100-mile (160-kilometer) round trip from Long Island to New York City twice a day, spending at least $15 on gas each trip.
"I've been mocked and scoffed and cursed at and I've been through a lot with this lighted sign on top of my car," said Hopkins, 52, a former television producer who lives in Great River, New York. "I was doing what I've been instructed to do through the Bible, but now I've been stymied. It's like getting slapped in the face."
---