Is the Broad Superintendents Academy trying to corporatize schools?
Created in 2002 by billionaire philanthropist Eli Broad, the Broad Superintendents Academy has come under fire by critics who say that it is hostile to teachers. Defenders of the program say that its fellows graduate with a variety of viewpoints.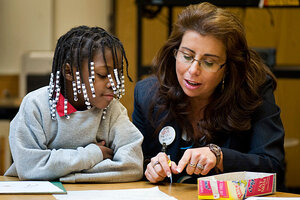 m42/ZUMA Press/Newscom/File
Billionaire businessman Eli Broad, one of the country's most active philanthropists, founded the Broad Superintendents Academy in 2002 with an extraordinarily optimistic goal: Find leaders from both inside and outside education, train them, and have them occupying the superintendencies in a third of the 75 largest school districts—all in just two years.
Now hosting its 10th class, the Los Angeles-based program hasn't quite reached that goal, but it's close. The nation's three biggest districts have Broad-trained executives in top leadership positions: Shael Polakow-Suransky, the chief academic officer in New York City; John E. Deasy, the superintendent of Los Angeles Unified; and Jean-Claude Brizard, who became the chief executive officer of the Chicago schools last month. In all, 21 of the nation's 75 largest districts now have superintendents or other highly placed central-office executives who have undergone Broad training.
But as the program has risen in prominence and prestige—758 people, the largest pool ever, applied for the program this year, and eight were accepted—it has also drawn impassioned criticism from people who see it as a destructive force in schools and districts.
---