Asteroid Vesta: surface of huge asteroid has mysterious dark spot
Asteroid Vesta has been coming into focus as NASA's Dawn probe comes in for close-up photos, but a mysterious dark spot has scientists scratching their heads.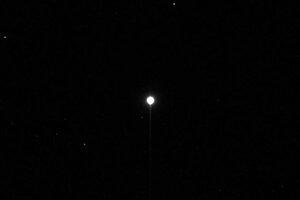 NASA/Reuters
A NASA spacecraft has captured new video of the huge asteroid Vesta ahead of a planned rendezvous with the space rock in July, revealing an odd, dark spot that has astronomers buzzing.
NASA's Dawn probe will arrive in orbit around Vesta, the second-largest asteroid in the solar system, on July 16. The spacecraft has been taking photos of Vesta with its framing camera since May to help prepare for the close encounter.
The new video is actually a series of 20 photographs taken during a 30-minute period on June 1, when Dawn was about 300,000 miles (483,000 kilometers) from the giant space rock. The images, which capture about 10 percent of a full rotation, reveal several intriguing features on the 330-mile-wide (530-km) Vesta. [Watch the new asteroid Vesta video]
For example, the video shows a dark blotch about 60 miles (97 km) wide near Vesta's equator, moving from left to right across the field of view as Vesta rotates.
---