How large can lobsters grow? Big! But no one knows how big.
Lobsters can grow to be four feet long, 40 pounds, and maybe 100 years old – maybe even more.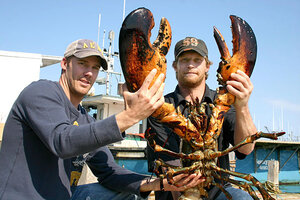 Brian Medel-Halifax Chronicle-Herald/The Canadian Press/AP
With New England diving into lobster season, seafood lovers across the country will don their bibs, grab some lemon wedges, and dine on nice one-pound crustaceans.
Most lobsters in supermarkets and restaurants fall in the one- to two-pound range. American law requires fishermen to toss back anything smaller. But lobsters can get bigger – much bigger.
In 2006, a diver caught a 12-pound, 20-inch lobster off the coast of San Diego. In 2008, a Canadian crew snagged a 20-pounder. Yet both of those were pipsqueaks compared with the late king of crustaceans. The Guinness World Record went to a 44.3-pound lobster found in 1977 near Nova Scotia. Guinness didn't note its length, but the US Navy once measured a similarly hefty lobster at four feet long.
These clawed colossi aren't freaks or flukes, explains Jelle Atema, a professor of biology at Boston University. They're just very old.
Lobsters, he says, seem to never stop growing. Their crustacean cousins, crabs, reach a point at which the carapace (the outer shell) simply will not grow any larger. But nature never hemmed in lobsters.
---