Humans evolving slower than previously thought, study finds
A study of the genomes of two families has found that the number of mutations thought to occur each generation had been overestimated, suggesting that the pace of human evolution is slower than scientists had thought.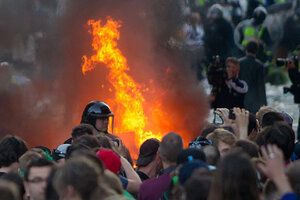 Darryl Dyck/The Canadian Press/AP
Humans might be evolving slower than scientists had thought, according to a new analysis of the genomes of two families, but there is a huge variance between people.
The researchers, reporting their findings June 12 in the journal Nature Genetics, based their measurement of evolution speed on the number of new mutations that occur during one generation in each of the families. A slower mutation rate means we probably separated from chimpanzees evolutionarily longer ago than previously thought, the researchers say, adding that the finding may have medical implications, if some groups of people are more mutation-prone than others.
"This makes us think about what are the underlying mechanisms of these mutations, other than just a random process," said study researcher Philip Awadalla, of the University of Montreal in Canada. "Why are there differences in the rate or accumulation of mutations in individuals?"
The mutations rate seems to be highly variable, Awadalla said, and could be affected by aging and environmental exposure to toxins, among other factors. [Top 10 Mysteries of the First Humans]
Tiny tweaks
Every person has two copies of each of their genes, one from the mother's egg and the other from the father's sperm. These two copies are quite similar, but have some random differences.
---