What's causing all this recent crazy weather?
Flooding, droughts, tornadoes – it's been a crazy spring. Is there anything behind these extreme weather events?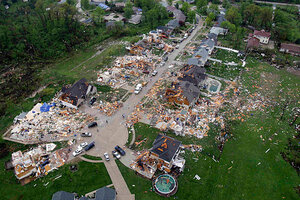 Jeff Roberson/AP/File
The weather this spring has been so severe – historic flooding, extreme drought, and record-breaking outbreaks of killer tornadoes – that the last time any spring in the United States remotely looked like it was in 1927, according to scientists.
The death toll has been staggering, and the bulk of hurricane season still looms ahead.
A mix of climate patterns triggered these extreme events, scientists said during a briefing today (June 15).
"The reality is there usually isn't one single smoking gun," said Thomas Karl of the National Climatic Data Center.
One culprit was La Niña, a cyclical system of trade winds that cools the waters of the equatorial Pacific. (El Niño is La Niña's warm-water counterpart.) La Niña (Spanish for "the little girl") can muck with global weather patterns, recurring every few years and lingering for as long as two years. [Weirdo Weather: 7 Rare Weather Events].
La Niña is gone now, but her slow exit – along with a lingering reversal of atmospheric pressure patterns and wind direction in the North Atlantic, called the North Atlantic Oscillation – appears to have been the big driver behind all the wild weather.
"The effects of La Niña were sort of muddled together with the effects of the enhanced North Atlantic Oscillation," said Ed O'Lenic of the Climate Prediction Center.
Some of the extremes seen this spring could be just a taste of what we might see in a future, warmer world – though scientists do not tie particular events to climate change.
Floods & drought
---