Huzzah, summer solstice? At South Pole, winter solstice is party time.
Tuesday is the summer solstice in the Northern Hemisphere. For research teams toiling at the South Pole, though, it's the winter solstice and, oh boy, are they happy about it!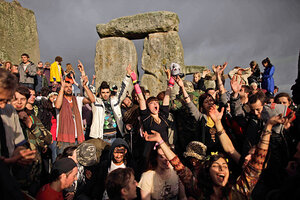 Matt Dunham/AP
It's fleeting, so get ready: The Northern Hemisphere's summer solstice will come and go at 1:16 p.m. Eastern Daylight Time Tuesday.
From the sun's perspective, the June solstice marks the moment when the northern "end" of Earth's tilted axis reaches its maximum nod toward the sun.
From Earth's perspective, the summer solstice marks the highest spot the sun will reach in the sky, giving Northern Hemispherians their longest period of daylight for the year. By 1:17 p.m., the sun will have in effect said "enough" and will slowly head south for the northern winter and southern summer.
Prior to the arrival of Christianity to northern Europe, cultures celebrated the arrival of the June solstice because it was seen as one of the few times of the year when magic was at its most powerful.
These days, the June solstice is celebrated as the start of summer, although at tourist destinations such as Massachusett's Cape Cod, Memorial Day often marks the start of the "summer season" for tourism.
But lest we think of the June solstice only in terms of suntan oil or maypole dances marking "midsummer" solstice celebrations in the Northern Hemisphere, it's also an opportunity to pause and remember those who are sacrificing their summer so that others may learn about climate, or Mars, or the cosmos as a whole – never mind penguins, fossils, and krill.
These are the technicians and support people at research stations in Antarctica at the bottom of the Earth, who are currently isolated by winter storms and perpetual darkness. They, too, celebrate the June solstice – but for endurance, rather than religious, reasons.
---