Why airplanes make it rain or snow
Aircraft create more rain near airports by punching holes in the clouds, effectively seeding the clouds, according to a new study of the phenomenon.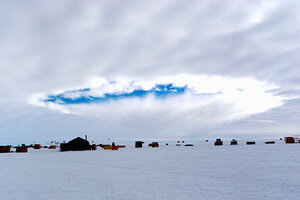 Eric Zrubek and Michael Carmody, Science/AP
Airplanes may alter the weather around airports to a small degree by punching holes in clouds and even causing snow or rain, a new study indicates.
Looking at weather data from seven airports located in mid- to high-latitude areas, the researchers found that landing and departing flights had as much as a 6-percent chance of inadvertently "seeding" the clouds they punched through and causing precipitation.
This inadvertent rainmaking by air traffic probably isn't important on a global scale, but it could mean more rain or snow in regions around airports, particularly at higher latitudes, the authors write in the July 1 issue of the journal Science. [Holey Clouds: Gallery of Formations Cut by Airplanes]
How they do it
For decades, large holes in clouds baffled observers, and, at least in the case of one suspiciously saucer-shaped indentation over Moscow, even led to theories of UFO visitation. In research published in 2010, Andrew Heymsfield, a senior scientist at National Center for Atmospheric Research in Boulder, Colo., and his team offered an explanation for the strange clouds by linking the cooling effect of airplanes to these mysterious gaps.
---