Scientists unearth fossil of SUV-sized wombat
Paleontologists have unearthed a nearly complete skeleton of a Diprotodon, a fearsome three-ton wombat that rampaged across Australia some 2.5 million years ago until the arrival of the first humans.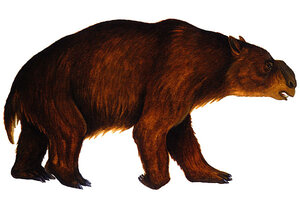 University of New South Wales Press / AFP / Newscom
Paleontologists digging near a remote cattle station in Queensland, Australia, have discovered a nearly complete skeleton of a humongous wombat.
Discovered near Floraville Station in northwestern Queensland, the fossil represents the most complete specimen so far discovered of a diprotodon, a three-ton marsupial that roamed the continent for about 2.5 million years until going extinct some 50,000 years ago.
"If one tried to visualize what this thing looked like you'd have to sort of think of a gigantic wombat on steroids," University of New South Wales biologist Mike Archer told the BBC.
Science has known of the existence of a prehistoric mega-wombat for a long time. The species was named in 1838 by British paleontologist Richard Owen, who also coined the word "dinosaur."
How big was it?
---