Rainbow toad: Found after 87 years, first photo ever
Rainbow toads, more precisely, the Bornean rainbow toad, has not been seen since 1924. It was one of the world's top 10 most wanted lost amphibians.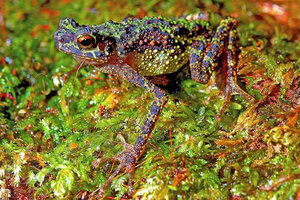 © Indraneil Das/LiveScience.com
After months of scouring remote forests in Borneo, researchers spotted three rainbow toads up a tree, snapping the first-ever photographs of this elusive amphibian species that hadn't been seen for 87 years, scientists announced July 13.
Last seen in 1924, the Bornean rainbow toad (Ansonia latidisca) had been listed as one of the world's top 10 most wanted lost frogs, or those that hadn't been seen in at least a decade. Conservation scientists thought the chances of spotting the spindly-legged toad were slim.
In fact, until this rediscovery, scientists had only seen illustrations of the mysterious and long-legged toad existed, after collection by European explorers in the 1920s.
IN PICTURES: Don't fear the leaper
"When I saw an email with the subject 'Ansonia latidisca found' pop into my inbox I could barely believe my eyes," said Robin Moore of Conservation International, adding that an attached image proved the unbelievable finding. "The species was transformed in my mind from a black and white illustration to a living, colorful creature." (Moore launched the campaign the Global Search for Lost Amphibians.)
---
Follow Stories Like This
Get the Monitor stories you care about delivered to your inbox.