'Next stop, Jupiter': NASA's mission to the giant planet blasts off
NASA launches Juno, its newest planetary explorer, on a 1.7 billion-mile, five-year voyage to Jupiter. Scientists hope to pierce Jupiter's cloudy veil and fill in the blanks on the origins of the oldest planet.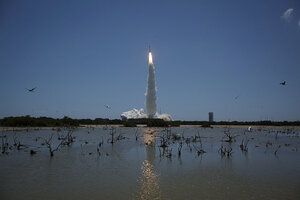 Bill Ingalls/NASA/AP
Juno, NASA's newest mission to Jupiter, is on its way to the solar system's largest planet.
After a 50-minute delay, an Atlas rocket carrying the four-ton spacecraft arced into the sky from Kennedy Space Center in Florida on Friday. Just under an hour after launch, controllers confirmed that the craft was performing flawlessly, its three enormous solar panels fully extended to support the first solar-powered spacecraft to visit an outer planet.
"Next stop: Jupiter," said a clearly pleased Scott Bolton, a planetary scientist at the Southwest Research Institute in San Antonio, Texas, and the mission's lead scientist.
Past NASA missions have flown by Jupiter or, in the case of the Galileo mission, orbited the giant planet and toured its moons. But this is the first mission to focus its instruments full-time on the planet itself.
Despite the attention scientists have heaped on Jupiter to date, basic questions remain unanswered. For instance, no one knows how deep the clouds go. The dynamo that generates the planet's powerful, expansive magnetic field is a mystery.
Beyond understating the planet's structure and behavior, scientists are interested in a more-detailed look at Jupiter because it is widely believed to have been the first planet that formed after the sun did, some 4.6 billion years ago.
---