Perseid meteor shower: Best times to see the 'shooting stars'
Perseid meteor shower fans should go out Wednesday and Thursday a.m. to avoid the glare from the moon. The Perseid meteor shower peak is Aug. 13.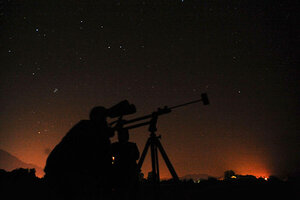 Nikolas Giakoumidis/AP/File
For Northern Hemisphere observers, August is usually regarded as "meteor month" with one of the best displays of the year reaching its peak near midmonth. That display is, of course, the annual Perseid Meteor Shower beloved by everyone from meteor enthusiasts to summer campers.
But sky watchers beware: You will be facing a major obstacle in your attempt to observe this year's Perseid performance, namely, the moon.
This year, the moon will be full on Aug. 13just in time to seriously hamper, if not all but prevent, observation of the peak of the annual Perseid meteor shower, which is predicted peak overnight on Aug. 12 and 13. Bright moonlight will flood the sky all through that entire night and will certainly play havoc with any serious attempts to observe these meteors.
But there are still some chances, including three dark nights this week, for skywatchers to search for Perseids, weather permitting.
The Perseids are already around, having been active only in a very weak and scattered form since around July 17. But a noticeable upswing in Perseid activity is expected to begin during the second week of August, leading up to their peak night. [Amazing Perseid Meteor Shower Photos]
The Perseids are typically fast, bright and occasionally leave persistent trains. And every once in a while a Perseid fireball will blaze up bright enough to be quite spectacular. The meteors are more than capable to attract attention even in bright moonlight.
---