NASA pinpoints crash site of fallen satellite
NASA has determined the exact point where its huge UARS climate satellite fell to Earth. It's in the Pacific Ocean.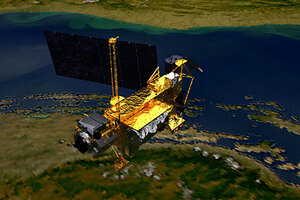 NASA/Reuters/Handout
NASA and the military have pinned down exactly where and when a huge dead climate satellite fell to Earth on Saturday (Sept. 24).
The defunct Upper Atmospheric Research Satellite (UARS) re-entered the atmosphere at 12:01 a.m. EDT (0401 GMT) on Saturday, falling into the Pacific at 14.1 degrees south latitude and 189.8 degrees east longitude (170.2 west longitude), according to the Joint Space Operations Center at Vandenberg Air Force Base in California. NASA announced the new details today (Sept. 27).
These details close the case on NASA's 6 1/2-ton UARS satellite, which was launched on a space shuttle in 1991 to study Earth's ozone layer. The satellite was decommissioned in 2005, and has been slowly losing altitude since. [Photos of NASA's Huge Falling Satellite UARS]
"Six years after the end of its productive scientific life, UARS broke into pieces during re-entry, and most of it up burned in the atmosphere," NASA wrote in a final status update. "Twenty-six satellite components, weighing a total of about 1,200 pounds, could have survived the fiery re-entry and reach the surface of Earth."
---