Crowdsourcing science: how gamers are changing scientific discovery
Computer gamers who cracked a decades-long AIDS mystery in three weeks embody a rising trend among researchers: enlisting the skills of everyday people to help with scientific discovery.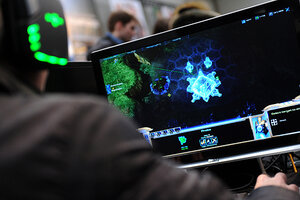 Caroline Seidel/dpa/picture-alliance/Newscom
For 15 years, scientists and their computers had tried to solve a biological puzzle seen as a key hurdle in the fight against AIDS.
On Sept. 18, the journal Nature Structural & Molecular Biology announced that two teams of computer gamers had solved it in three weeks.
Using a game called FoldIt, the teams uncovered the structure of a class of proteins scientists say is vital to the growth and reproduction of the virus linked to AIDS. The discovery could help scientists neutralize the protein.
FoldIt represents a unique approach toward engaging citizen scientists, and it is the latest innovation in a decade-long trend – researchers enlisting everyday people and their personal computers to take part in humanity's scientific enterprise.
Some scientists, like FoldIt's creators, seek to tap the competitive, problem-solving skills of gamers. Others are asking outsiders to make their computers part of data-crunching networks. And some amateurs are helping to classify everything from distant galaxies to features on the moon.
Such efforts are likely to play an increasingly important role in science, researchers say. Many research questions are getting harder to answer and require more data than ever before. And the ranks of scientists and their graduate students aren't growing fast enough.
Whatever the approach, Main Street recruits and their computers are playing a useful role in accelerating the pace of scientific discovery.
With FoldIt, the idea was to involve humans in the kind of problem solving that often befuddles computers.
In the world of proteins, shape is everything, but computers have a tough time analyzing it. Humans, however, excel at 3-D pattern recognition and can wield the game's online tools to shape the protein. Meanwhile, the game acts as a referee should team members run afoul of the basic physics that govern bonding between the molecules involved. The less energy needed to retain the protein's shape, the higher a team's score.
---