Draconid meteor shower: Don't let daylight or nearly full moon stop you
Draconid meteor shower viewing is potentially much more exciting this year, as Earth is expected to hit some tendrils of comet dust head-on. But the peak is Saturday afternoon.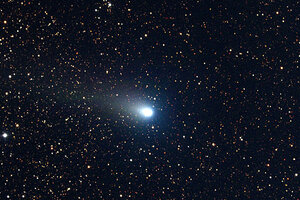 National Optical Astronomy Observatory/Association of Universities for Research in Astronomy/AP/File
If you live in North America, Saturday night will bring one annual meteor shower you won't have to set an alarm clock to see.
The Draconids are coming, and astronomers who forecast these events suggest these meteors could be slicing across the sky at a rate of from 500 to 1,000 an hour at the shower's peak.
Before you get too excited, however, some caveats:
1) The shower is expected to peak between 3 p.m. and 5 p.m. Eastern Daylight Time, meaning the folks in the best position to see the show live in the Middle East, North Africa, and parts of Europe. The shower will appear over North America as it's waning.
2) The moon will be up, and it's only a couple of days away from full-moon status. That means it may be hard to see all but the brightest meteors – from a shower known for a high proportion of dim bulbs.
Still, "if I were a member of the general public, I'd sure stick my head out tomorrow night just in case," says Bill Cooke, who heads NASA's Meteoroid Environment Office at the Marshall Spaceflight Center in Huntsville, Ala. Typically the Draconids peak at about 20 meteors an hour, astronomers say.
---