Kraken monster ruled ancient seas? Scientists wary of new theory.
Kraken skeptics say a new theory proposing the existence of a real-life 200-million-year-old Kraken sea monster involves too much inference and guesswork to be serious science.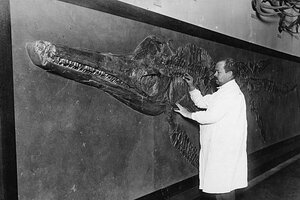 Newscom/File
An unusual presentation at a scientific conference Monday has many paleontologists demanding: Show me the kraken!
Geologist Mark McMenamin has invoked the mythical creature from Norse mythology as an outside-the-box explanation for a puzzling assembly of marine fossils in a state park in Nevada. These fossils could actually be a carefully patterned refuse pile left by an enormous, tentacled creature, he says – a creature he dubs a kraken.
The problem, other researchers say, is that neither Nevada's Berlin-Ichthyosaur State Park, nor any other, similar fossil assemblage around the world has yielded any direct or indirect fossil evidence of a "kraken" – let alone any 200-million to 250-million year old creature capable of arranging its dinner scraps in a pattern.
Dr. McMenamin, who teaches at Mount Holyoke College in South Hadley, Mass., presented his proposal at a Geological Society of America conference in Minneapolis on Monday. He came with flak jacket in tow.
"We're ready for this. We have a very good case," he said.
---