Global warming: Middle East's vital wet winters are disappearing
Global warming is playing a significant role in diverting much-needed wet winter weather away from the increasingly dry Mediterranean, a new study led by a NOAA scientist suggests.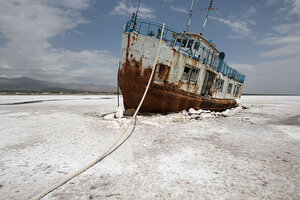 Vahid Salemi/AP
Winter droughts have become increasingly common in the Mediterranean region, particularly over the past 20 years, and a new study finds that global warming has driven at least half of the change.
Drought conditions in this politically explosive region are expected to grow more severe over the course of the century unless countries begin to significantly reduce their emissions of heat-trapping greenhouse gases, particularly carbon dioxide, many researchers say.
Those emissions come from burning fossil fuels, as well as from land-use changes.
Winter storms historically have delivered most of the annual rain and snowfall to the already arid Mediterranean region. Yet precipitation measurements from the region and modeling studies point to a relatively rapid shift in the winter rain and snowfall trends that began in the 1970s, according to the study.
That change could signal that the region "has moved into a new climate regime," says Martin Hoerling, a scientist at the National Oceanic and Atmospheric Administration's Earth Systems Research Laboratory in Boulder, Colo., and the study's lead author.
The shift is not the result of temperature trends in the region itself, Dr. Hoerling notes. Instead, he and his colleagues trace drier Mediterranean winters to changes in long-range atmospheric circulation patterns. These changes, the study suggests, are triggered by rising ocean temperatures in the tropical Indian Ocean, a trend scientists have previously attributed to climate change.
---
Follow Stories Like This
Get the Monitor stories you care about delivered to your inbox.