After five months in space, ISS astronauts land in Kazakhstan
A trio of astronauts in a Russian Soyuz capsule parachuted back to Earth Tuesday, touching down on a frigid, snowy steppe in Central Kazakhstan.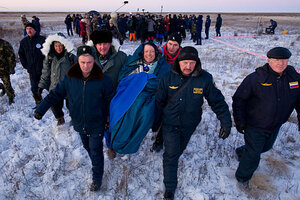 NASA/Bill Ingalls/AP
Three astronauts inside a Russian Soyuz capsule parachuted safely back to Earth Tuesday after nearly six months on the International Space Station (ISS), the first landing since NASA retired its space shuttles this summer.
U.S. astronaut Mike Fossum, Japan's Satoshi Furukawa and Russian cosmonaut Sergei Volkov landed at 0226 GMT, shortly before sunrise on the snowbound steppe of central Kazakhstan, NASA TV showed.
"The landing was great. Everything's good," said Volkov, flashing a thumbs-up signal after he was extracted from a Soyuz TMA-02 capsule blackened by the extreme temperatures on re-entry to the atmosphere.
The closure of NASA's shuttle program means Russian spaceships are the only way to ferry goods and crews to and from the $100-billion ISS, which is shared by 16 nations, until commercial firms develop the ability to transport crews.
Russia hopes the textbook landing will help to restore confidence in its space program after the August crash of an unmanned Russian cargo flight suspended manned spacemissions.
The returning crew have been replaced in orbit by NASA's Daniel Burbank and Russians Anton Shkaplerov and Anatoly Ivanishin, whose successful launch last week allayed fears that the station would be left empty for the first time in a decade.
---