China: Economic woes no excuse for climate change inaction
Ahead of major climate change talks in Durban, South Africa, China's top climate official said that economic turmoil in the West should not get in the way of fighting global warming.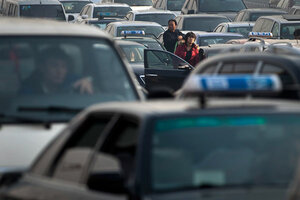 Andy Wong/AP
Economic problems in Europe and elsewhere should not get in the way of a new pact to fight global warming, China's top climate official said on Tuesday ahead of major climate talks in South Africa.
Delegates from nearly 200 countries meet from Monday till Dec 9 in Durban as part of marathon U.N.-led negotiations on a broader pact to curb growing greenhouse gas emissions as the world faces rising sea levels and greater weather extremes.
"After the financial crisis, every country has had its problems, but these problems are just temporary," Xie Zhenhua, vice-director of the National Development and Reform Commission, told reporters on Tuesday.
Officials in Beijing have suggested economic turmoil in Europe and political unrest in North Africa have pushed climate change far down the list of global priorities, overshadowing next week's talks and undermining plans to provide cash and technical support to poor nations to adapt to climate change.
"Climate change isn't unimportant at this stage, but it isn't so salient, and I think it will again draw the attention of the global community in 2015 after the (new round of) scientific assessments are carried out," said Xie.
He was referring to a review of nations' emissions reduction pledges and a major 2013-14 report by the U.N. climate panel.
---
Follow Stories Like This
Get the Monitor stories you care about delivered to your inbox.