International community makes last-ditch attempt to save Russian space probe
Officials from NASA and the European Space Agency have pitched in to help save the Russian Phobos-Grunt probe, which was supposed to fly to a Martian moon to collect soil samples but is instead stuck in orbit around Earth.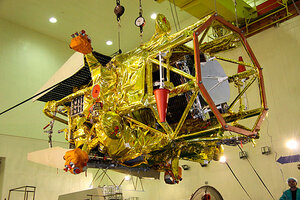 Russian Federal Space Agency/AP
An international effort is under way to save Russia's Phobos-Grunt mission to Mars, but time is quickly running out on propelling the probe toward the Red Planet.
The interplanetary undertaking is designed to visit Phobos, one of the moons of Mars, and return samples to Earth by 2014.
But Phobos-Grunt's deadline only chance for departure from Earth orbit is projected to be Nov. 24, due to the alignment of Earth and Mars as well as the spacecraft's fuel status to attain the outward-bound oomph required.
Using powerful radio dishes to monitor the vehicle, officials from the European Space Agency, NASA and Russia have been engaged in a global endeavor to rescue the spacecraft, which has been stranded in low-Earth orbit since its Nov. 8 launch from the Baikonur Cosmodrome in Kazakhstan. After the Phobos-Grunt probe separated from its Zenit booster, the probe failed to perform a critical maneuver needed to begin the trek toward Mars. [Photos: Russia's Mars Moon Mission]
Tracking services
---
Follow Stories Like This
Get the Monitor stories you care about delivered to your inbox.