Mars rover gets 'engine' upgrade: Curiosity fueled by nuclear power
The next Mars rover, Curiosity, is scheduled to launch Saturday. It's the first Mars rover to jettison solar panels for nuclear power, meaning it can go places and do things others couldn't.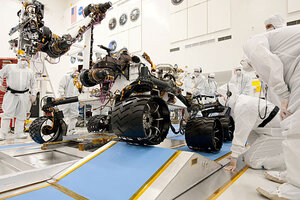 Dutch Slager/NASA/AP/File
NASA's most ambitious Mars exploration mission yet is set for launch on Saturday, and the rover has one hot energy source.
Gone are the fly's-wing-like solar panels that provided electricity for earlier rovers Spirit and Opportunity.
Instead, the rover for the Mars Science Laboratory, Curiosity, carries 10.6 pounds of plutonium-dioxide pellets. The system is designed to allow the vehicle to operate where sunlight is so weak or the spacecraft's mission is so demanding that solar panels are impractical.
"You can operate with solar panels on Mars, you just can't operate everywhere," said Stephen Johnson, who heads the space nuclear systems technology division at the US Department of Energy's Idaho National Laboratory in Idaho Falls, in a statement. "This gives you an opportunity to go anywhere you want on the planet, not be limited to the areas that have sunlight, and not have to put the rover to sleep at night."
The power source is known as a multimission radioisotope thermoelectric generator (RTG), and other versions have been incorporated into spacecraft designs since the 1960s. In January 2006, NASA launched an RTG on the New Horizons spacecraft, which is now more than half way to its planned 2015 flyby of Pluto. Even the Mars rovers Sojourner, Spirit, and Opportunity have carried small plutonium-fueled heaters to keep the vehicles' electronics warm.
---