Russia's failed Phobos-Grunt probe was supposed to be a comeback
Russia's Phobos-Grunt probe, which was supposed to fly to one of Mars's moons and return with a soil sample, broke down shortly after launch and is now uselessly orbiting Earth. Is Russia's space industry on the verge of collapse?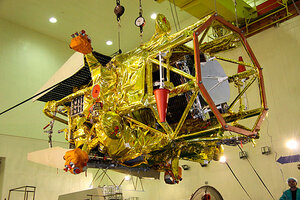 Russian Federal Space Agency/AP
Russia's unsuccessful launch of a Mars moon probe points up the problems of a once-pioneering space industry struggling to recover after a generation of brain drain and crimped budgets.
An unmanned craft, launched last Wednesday in what was meant to be post-Soviet Russia's interplanetary debut, got stuck in Earth's orbit and may drop down into the atmosphere within days.
The failure rattled Russian space officials but came as no surprise to many industry veterans who saw the ambitious mission to bring back dirt from the Martian moon Phobos as a pipe dream.
"Unfortunately, no miracle occurred," veteran cosmonaut Yuri Baturin quipped to the state-run newspaper Rossiiskaya Gazeta.
Despite improved budgets and Prime Minister Vladimir Putin's pledge to restore pride in the sector, the Russian space industry is saddled the legacy of a lost generation of expertise, in many cases obsolete ground equipment and outdated Soviet-era designs.
It is plagued by the same corner cutting, decaying infrastructure and lack of effective quality control that are blamed for frequent disasters across Russia's industries, from coal mine and dam explosions to air crashes.
The Soviet Union began the space age over half a century ago by launching the satellite Sputnik, but Russia has been entirely absent from space beyond Earth's orbit for 20 years, while U.S. probes have voyaged into the farthest reaches of the solar system. Even newcomers India, China and Japan have sent unmanned missions to the moon and beyond.
---