On Thanksgiving, space station astronauts don't have to watch their weight
The Thanksgiving menu for astronauts aboard the International Space Station includes turkey, yams, and cherry-blueberry cobbler, all served up – or is it down? – in a microgravity environment.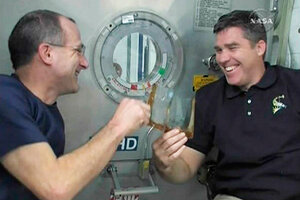 Reuters/NASA TV
A light Thanksgiving dinner doesn't necessarily mean skimping on the turkey or stuffing, not even aboard the International Space Station. The three crew members, who arrived just in time to spend a weightless holiday in orbit, will enjoy a feast of irradiated smoked turkey and heat-treated yams while floating 220 miles (354 kilometers) above Earth tomorrow (Nov. 24).
The weightless feast will include traditional favorites with a space-y twist, such as NASA's own cornbread dressing, home-style potatoes, cranberries, and for dessert — drum roll! — cherry-blueberry cobbler, served in a space pouch.
Around the table will be NASA astronaut Dan Burbank and Russian cosmonauts Anton Shkaplerov and Anatoly Ivanishin. The trio arrived at the space station Tuesday (Nov. 22), and they are scheduled to live and work aboard the outpost until March. Their time will be spent conducting experiments and preparing for the arrival of new commercial cargo-carrying spacecraft.
Burbank recently described the crew's Thanksgiving plans in a NASA holiday video message, with Burbank catching floating food packages as he gave Earthlings a rundown of the Thursday menu. [A Gallery of Space Food]
---