Durban climate change talks: Experts see warmer world as inevitable
Many of the nations gathered in Durban, South Africa, this week have proposed voluntary cuts to greenhouse gas emissions. But even if all of those cuts were successful, they would still result in catastrophic climate change.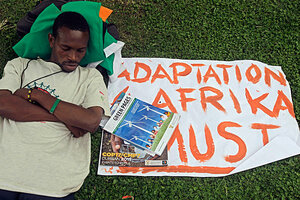 Schalk van Zuydam/AP
As this year's round of global climate talks begin in Durban, South Africa, negotiators once again try to tackle an elusive goal: Trimming nations' greenhouse gas emissions enough to meet the target of limiting global warming to less than 2 degrees Celsius (3.6 degrees Fahrenheit) before the end of the century.
This target is expected to reduce the potentially devastating effects of climate change, but, so far, it appears a long way off.
Last year, negotiators in Cancún, Mexico, agreed to the goal of limiting warming of the Earth's average surface temperature to 3.6 degrees F above pre-Industrial Revolution levels. Their agreement notes, however, that a ceiling of 2.7 degrees F (1.5 degrees C) might be warranted.
A world 2 degrees warmer is not an ideal scenario. Even if nations are successful, the planet can still expect increasing heat spells, drought, flood damage and certain other severe weather events, along with elevated rates of extinctions and shifts in species' ranges, including those of disease-spreading insects, and many other potentially problematic changes, according to the Intergovernmental Panel on Climate Change 2007 Synthesis Report. Their severity grows along with increasing projected temperature rise, according to the report. [How 2 Degrees Will Change Earth]
---