Are banks to blame for climate change?
A report released by non-governmental groups at the climate talks in Durban, South Africa, said that major global banks bear responsibility for global warming by funding utilities and mining companies to build coal-fired power plants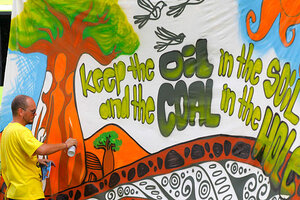 Mike Hutchings/Reuters
Major global banks are exacerbating the fight against global warming by supplying power utilities and mining firms with ample funds to build coal-fired plants, according to a report released by non-governmental groups at the climate talks in Durban.
The study examined the portfolios of 93 major banks and found that coal financing supplied by those institutions to the coal industry totaled 232 billion euros ($309.4 billion) since 2005 when the Kyoto Protocol came into force.
"If banks provide money for these projects, they will wreck all attempts to limit global warming to 2 degrees Celsius," said Heffa Schuecking of environmental think tank urgewald who worked on the report.
The Kyoto pact was set up to reduce greenhouse gases emitted by developed countries by an average of 5.2 percent below 1990 levels during the five-year period up to 2012.
At the same time many countries still invest in coal-fired plants, especially India and China, to supply their growing economies.
Among the top 20 banks listed in the report are institutions from the United States, the United Kingdom, Germany, France, Switzerland, China, Italy and Japan.
---
Follow Stories Like This
Get the Monitor stories you care about delivered to your inbox.