Santa Ana winds: How the West was hit by hurricane-speed winds
Santa Ana winds combined with a storm system to produce 100 m.p.h. winds in California and other Western states. The science behind the Santa Ana winds and this storm.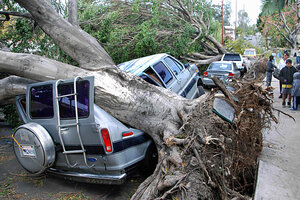 AP Photo/Mike Meadows)
Hurricane-force winds whipped through much of the western United States Thursday, sparking wildfires, knocking out power and flipping semi-trucks — but there's no tropical storm driving the intense gusts.
In Southern California, these freakish winds are called Santa Ana winds, strong down-slope winds that blow through the Santa Ana Mountain passes at speeds of 40 mph (64 kph), according to the National Weather Service.
The current weather system caused damage far outside of sunny SoCal, however, and the winds are among the worst in decades, meteorologists said. Widespread gusts as strong as those of Hurricane Irene at landfall are expected to continue into Friday, Dec. 2. Firefighters in California are responding to wildfires spread by the winds and a major stretch of interstate was shut down Thursday because of toppled trucks.
The strong winds throughout the West Coast are caused by an extreme pressure change between the Northwest and Southwest regions. A sprawling high-pressure system following a cold front has created a difference in pressure that sends wind surging southward. In the Northwest, a strong high-pressure system built along with a clockwise flow of winds. In the Southwest, a low-pressure system developed along with a counter-clockwise flow. The tight so-called pressure gradient that formed between these systems is driving winds over mountains and through the California canyons.
The winds can be of tropical storm strength(winds less than 74 mph, or 119 kph) at lower elevations and hurricane-strength (74 mph or greater) above 1,000 feet (305 meters).
---