Activists showing impatience at Durban climate talks
Climate activists in Durban are expressing their displeasure at negotiators from wealthy countries, whom they see as dragging their feet on curbing greenhouse gas emissions.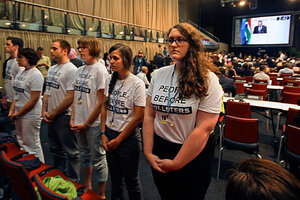 Macolm Boothroyd/Canada Youth Delegation/Reuters
As a global climate conference enters the home stretch, it's likely that the 194 nations represented will reach some consensus on how to respond to the emissions that are warming the planet. But details on how tough those measures will be remain buried under a sea of competing national interests and economic worries.
The talks, due to wrap up Friday or early Saturday, are likely to finalize a massive fund to help poor countries cope with climate change. And indications are strong the conference could end with an agreement to begin the next phase in a battle to control heat-trapping greenhouse gases.
But Durban could also be the place where the only treaty that has governed carbon emissions from the industrial world, the 1997 Kyoto Protocol, breaks down, several years before anything is likely to replace it.
The slow pace of dealing with the core problem of rising temperatures is dispiriting delegates from small islands on the edge of survival, and from activists impatient with the familiar posturing of climate negotiations.
"Waiting is going to be a disaster for us," said Samuela Alivereti Saumatua, Fiji's environment minister, who said the Pacific island this month relocated its first coastal village because of climate-related flooding and unseasonable cyclones.
"We have cyclones now at any time of the year. We have flash floods in the coastal areas. Water supply is being salinated. Food security is going to be a problem. We are desperately looking at how we will deal with the situation," he told reporters.
---
Follow Stories Like This
Get the Monitor stories you care about delivered to your inbox.