Lunar eclipse: Why will this one be so big and red?
Lunar eclipse watchers are looking forward to the last lunar eclipse of 2011 Saturday morning. In the West, the eclipse will happen just as the moon is setting, creating quite a show.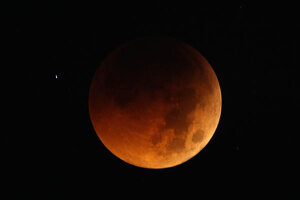 Bullit Marquez/AP
The last eclipse of the moon for 2011 takes place this Saturday, Dec. 10. It's a total eclipse. And for people living west of the Rockies, it promises to be a beauty, weather willing.
People in the Western United States won't see the full lunar eclipse; the moon will be setting Saturday morning as the eclipse is occurring. But when it's low on the horizon, it can appear significantly larger than when it's high in the sky.
That means the reddening moon could be eye popping, but more on that apparent size discrepancy later.
For eclipse-watchers in the Western US who have low horizons to the west, or a strategically located mountain pass, the main show starts about 4:45 a.m. Pacific Standard Time, according to data posted by NASA. The moon will be moving into partial eclipse
The eclipse will reach totality at 6:32 a.m. Pacific Standard Time. That means the best places to watch the eclipse from start to finish stretch from Hawaii west into Asia.
These eclipses occur when the Earth blocks direct sunlight from reaching the moon. But at totality, the moon still gives off a red glow, thanks to sunlight that passes through Earth's atmosphere.
The moon's ruddy hue during a lunar eclipse owes its color to the way light scatters in the atmosphere.
Coming from the far side of Earth, as an astronaut on the moon might see it, the sunlight must travel a relatively long distance through the atmosphere before it exits and heads moonward.
During the course of its travels, the light looses its other colors – think the color spectrum, here – to atmospheric molecules and dust. These scatter the shorter wavelengths of light. The more dust, the darker the red left to daub the moon's surface.
---